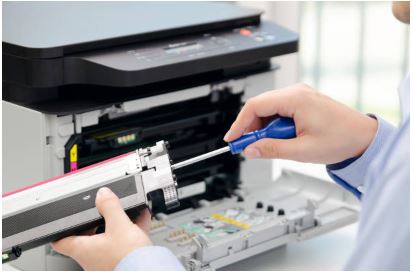 When it comes to business, the last thing you want to happen is for your office equipment to break down at the worst possible time. But no matter how much you try to plan and prevent issues before they arise, there will always be times when things go wrong. That's why having an extensive list of reliable vendors you can call in an emergency is so critical.
Access to a company that provides high-quality copier repair services can mean the difference between suffering extended downtime and getting your business up and running as quickly as possible.
But because so many businesses in almost every industry offer similar services, it can be hard to figure out which one will give you the best service for your needs.
What to Look for in a Copier Repair Company
As with any other business partnership, the first step in finding a reliable copier repair service is to carefully examine the various vendors in your area and select the one or two that seem the most reliable and trustworthy. When evaluating potential vendors, there are several factors to consider:
Years in business
Reputation
Service area
Equipment expertise
Technology experience
Security and confidentiality
Service guarantees
Insurance coverage
Payment Policies
Communication channels available
Response times
Availability during off hours
Response time during off hours
The more of these factors particular vendor scores highly in, the more likely they will be able to provide you with the high-quality services you need when you need them most.
Why is Your Copier Breaking Down?
If you want to know how to find a reliable copier repair company, the first step is to determine the root cause of the malfunction. Copiers are complex pieces of equipment that use sophisticated technology, so there are many ways in which they can break down or otherwise malfunction. However, three common types of breakdowns occur in most office copiers:
Paper jams
Toner or ink cartridge malfunctions
Printer or circuit board malfunctions
Understanding what type of malfunction your copier is experiencing can help you make better decisions about what type of repairs you need, which in turn can save you time and money. For example, if you have a paper jam, you may be able to solve the problem yourself with a simple procedure that does not require a technician to come to your facility.
On the other hand, if your toner or ink cartridge is running low, you can order a replacement cartridge online and have it delivered directly to your business. In either case, you can avoid the expense of bringing in a technician, which is likely to be much more costly.
3 Critical Business Repairs
When it comes to copier repairs, there are several types of issues that are most commonly experienced, including:
Electrical issues
Electrical issues, such as a circuit breaker being tripped or a blown fuse, are most often caused by electricity fluctuations or surges. In such cases, you need to replace the fuse or reset the circuit breaker as quickly as possible to avoid causing further damage to the copier. Electrical problems often mean that there is a problem with the wiring, which is a problem that usually needs the help of a trained technician.
Mechanical issues
Mechanical issues such as broken belts, damaged rollers, and misaligned gears are the most common causes of paper jams, which can be frustrating for employees and users.
Paper issues
Paper issues, such as pages getting stuck in the feeder, are usually the result of poor paper handling.
Copier Maintenance
Copier maintenance procedures should be performed by qualified technicians who are trained and experienced in the operation of your specific model of the copier. While preventive maintenance is necessary for all types of equipment, it is essential for copiers since they use a lot of paper and specialized inks and toners.
Copiers are also very sensitive to changes in the ambient environment, such as temperature and humidity, so they must be monitored carefully to ensure they operate within the ideal parameters. Getting your copier serviced by a professional regularly can reduce the chance of significant problems and breakdowns, costing you a lot of time and money.
Toner and Ink Cartridge Replacements
Copiers use specialized inks and toners to print documents onto paper. While some models use permanent inks and toners that last the lifetime of the copier, most use consumables that must be replaced regularly. Several types of consumables are used in copiers, including toner, ink cartridges, fuser filaments, drum kits, and other parts.
The consumables used in your particular copy machine model will vary from model to model. While some copiers come with a standard cartridge that can be replaced at any time, others require you to use specific types of cartridges that only certain suppliers will provide.
In most cases, your supplier will provide the name of the specific cartridge you need, along with instructions on installing it properly. However, if you have questions, contact your supplier directly. Depending on the model, you may need to replace your cartridges regularly or only when they run out.
Printer Repair and Maintenance
Printer repair and maintenance can help avoid or reduce the risk of various problems, including paper jams, dried ink or toner, and error messages. In most cases, printer maintenance is as simple as installing the latest printer driver, cleaning the printer regularly, and replacing any old or expired consumables such as toner and ink cartridges.
In some cases, the maintenance team may also need to make minor repairs, such as replacing a broken belt or cleaning a clogged paper feeder. In some cases, a printer may need more extensive repairs. If so, you may want to consider getting a second opinion from another technician to see if they differ in the diagnosis.
Security and Confidentiality
Copier repair technicians need access to your business and its equipment to perform repairs. As such, it's important to vet your technicians carefully and make sure they are trustworthy individuals who will handle your equipment and information with care.
Also, technicians who work in places that don't have enough security may put your business at risk by leaving your information open to hackers and other bad people.
Suppose your technicians lack proper training in the use of computer security systems. In that case, you might want to think about hiring a different service that has technicians who are better trained in the latest computer security protocols and techniques.
Payment Policies
Repair and maintenance services often come with a hefty upfront payment. Depending on the repair you need, the cost can be anywhere from a few hundred to a few thousand dollars.
Having a payment plan that makes it easy to manage your expenses can help you avoid financial stress while you're waiting for your copier to be repaired.
Communication Channels Available
There are several ways to communicate with your copier repair company, including phone calls, text messages, emails, and live chat. You might want to choose a company that has the best ways to communicate for your needs and preferences.
Some companies, for example, allow you to chat online with a technician to report ongoing issues, ask questions, and schedule repairs. These online channels are often more accessible than making a phone call and allow you to receive a timely response. Other companies have a hotline you can call anytime, day or night, to discuss your repair needs.
Response Times
In today's world, time is money, and waiting for a repair company to respond to your emergency can be frustrating. If you're under pressure to get your copier running again quickly and efficiently, the quicker you receive a response from your repair company, the better.
You may also consider hiring a company that provides faster but more expensive service.
IOTEC Digital is a Reputable Company that Provides Top-Quality Copier Repairs
If you need a copier repair service, knowing which vendors have a reputation for excellence can be helpful. While many businesses provide good copier repair services, a few stand out above the rest.
IOTEC Digital, for example, is a company that has been providing high-quality service for more than X years. It has built a reputation as a highly reliable vendor that can handle any office equipment repair. IOTEC Digital has technicians available 24 hours a day, seven days a week, so you can be sure that you will receive the service you need whenever you need it.
Conclusion
The first step towards avoiding copier breakdowns is to take good care of your equipment. That means scheduling maintenance and replacement services as needed and replacing parts before they break down completely.
Copiers can be expensive pieces of equipment, but they don't have to cause headaches for your company. With the proper maintenance strategy, you can keep your machines running smoothly and efficiently without worrying about frequent breakdowns.